8 Recruiting Tips to Ease Labor Woes
It's no secret that one of the biggest challenges that continues to plague the construction and construction supply industries is labor. Whether you're seeking trained carpenters or an entry-level stocker, the market for reliable employees ready to commit to the industry is tight.

As a company, you're not just competing for labor with other builders or dealers for staff, but with similar businesses and trades in your area. And that means even small missteps can make all the difference in losing a potentially great candidate.  

We checked in with Rikka Brandon, a nationally recognized building industry recruiting and hiring expert and best-selling author, to gather a few easy-to-follow tips that can have an immediate impact on your labor and hiring game.

• Embrace and nurture your brand: Job seekers have an advantage, and that means they get to be picky and choose companies that create a good working environment and culture. Your company's "talent brand"— the reputation it has in the market—has an impact on whether potential candidates apply for jobs or accept them. Not only do you have to tell the world who you are as a company, you have to show it in how you operate. Spell out your values and live them.

• Write a strong job ad: Your job ad should never be a reiteration or shorter version of a job description. A job ad should be a marketing tool to sell your brand to potential candidates. It should not only include what the job entails, but the "what's in it for me" factor about why they should want to work for your company.

• Use multiple forms of advertising: You can't post an ad on Craigslist and call it done. Go where the applicants are: Embrace, and invest in, tools like Indeed and LinkedIn, and boost posts on your company's social media. And don't ignore the power of networking—connect with people at local association events, let all of your contacts know about openings, and reach out to talent you've met in the past.

• Don't drag out the hiring process: With tight competition, job candidates aren't going to wait around for an offer because they likely are getting several. If your hiring process is four weeks long and involves six interviews, your candidate is going to lose interest and look elsewhere. And keep in mind that many candidates are having to take time off from their current job for interviews, so be respectful of their time and even consider video interviews or off-hour meetings when appropriate.

• Ensure your salary and benefits are up to par: With rising inflation, minimum wage salaries are not allowing young workers to keep up. To find loyal, committed employees, you need to pay them accordingly—let's be honest, most people don't work simply for pride or love of a company, they need to make money. Do your research on salaries in the area, both within the industry and outside of it, and make sure yours are keeping up.

• Stay flexible: Times have changed, and workers of all ages are seeking a work/life balance—and they'll move to another company to get it. While many positions in construction and construction supply simply cannot have flexibility beyond a normal in-person 9-5, others can. Allowing workers to go to their children's soccer games, removing guilt from calling in sick, providing extra PTO, and permitting remote work when it makes sense can go a long way to attracting and keeping staff members.

• Keep tabs on existing staff: Retention is as important as, or more important than, recruiting. Don't neglect your current team. Conduct surveys and talk to workers about what they like and don't like about working for your company, hear them out, and make adjustments accordingly. It's a lot more expensive to find and train a new team member than to make small investments to keep great workers.

• Don't keep bad managers: The saying goes, people don't leave jobs, they leave bad managers. As part of surveying your employees, understand the relationships between staff and their supervisors. Are one team's members leaving in droves? Are you hearing rumors? It may be worth investigating the management style of your supervisors. Include leadership training for your managers just as you provide installation training or sales training.

For more labor and hiring tips, check out Brandon's blog and follow her on LinkedIn. And be sure to follow Westlake Royal Building Products on LinkedIn for product news and industry and business insights.

Want more industry insights? Subscribe to our enewsletter!

Where and How to Use Beadboard

Whether to enhance the aesthetics of a home or give it a fresh look before selling, there are few things that offer an elevated look for a great price as well as beadboard.

While beadboard is most popular in Victorian and Craftsman styles (and those in between), it can be used to enhance just about any home as there's a panel to fit most decors.
What Is Beadboard?
Beadboard is a paneling where each narrow plank is separated by a vertical groove and a small ridge or bump, also called a "bead." Most commonly applied vertically on walls, the boards are typically trimmed out with horizontal molding to create a finished look. While people often use the term "wainscoting" and "beadboard" interchangeably, wainscoting refers broadly to decorative paneling, of which beadboard is just one type.
Historically, beadboard was made of wood. But advanced materials, like cellular PVC options from Royal® Trim & Mouldings, are becoming a preferred choice of contractors and homeowners looking for higher performance and low maintenance. For example, wood beadboard needs to be repainted every three to five years while acrylic paint on PVC beadboard can last upwards of 20 to 25 years; in addition, most cellular PVC trim comes manufactured in white, so it may not need to be painted at all depending on color preferences.
Where and How to Use Beadboard
Beadboard can be installed on both the interior and exterior of the home. You'll commonly see it in mudrooms, saunas, pool roofs, accent walls, and under porch ceilings and soffits.
Inside the home
On the interior, narrower beadboard is often used to add character to the space as an accent wall or by applying whole-room wainscoting. The resulting look evokes a higher-end, traditional feel.
Most commonly, panels are applied in 32" to 36" shorter segments, but taller 54" to 56" installations are becoming more popular as a way to create an even bigger wow factor.
The thinner the paneling and more beading you have on a wall, the more ornate it tends to appear. Narrower paneling is ideal for smaller spaces such as bathrooms, hallways, and stairways.
Outside the home
Beadboard paneling (or cladding with a similar appearance, such as nickel gap or shiplap) is an easy way to provide a more classic look in often overlooked areas of the exterior.  Using a high-performance material, such as TruExterior, which is made with fly ash and polymers, delivers the look as well as resistance to warping, rotting, and insects.
Beadboard is most often found on porch ceilings to create a finished aesthetic as well as to hide leveling irregularities and in soffits with exposed rafters or enclosed built-up soffits.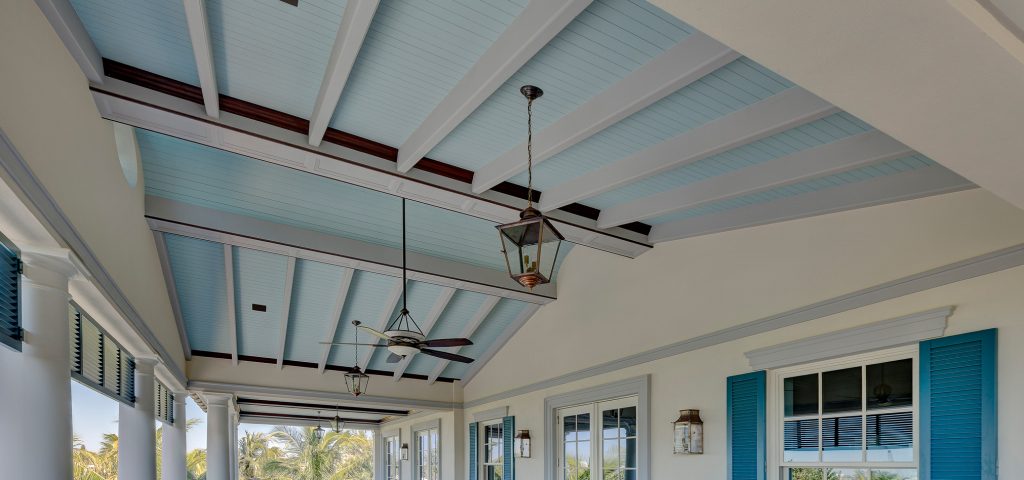 Tips for Selecting and Using Beadboard
Beadboard is fairly straightforward to install, but keep these considerations in mind:
Cost: Like other more decorative trim pieces, beadboard typically has a premium upfront cost. However, it also delivers a high-end look that can elevate the perceived value of the home. And low-maintenance products like cellular PVC can lower upkeep costs over time.
Panel installation: Because beadboard usually comes in panels, it can cover more area and therefore can often be installed quicker. Just keep in mind that lining up the panels can be a bit tricky if the installer tries to move too quickly. Always pre-plan your layout from the center.
Painting: Because of the texture of all the beading, painting beadboard may require attention to detail. If white is desired, opt for an unfinished white product like that from Royal Trim & Moulding. If color is specified, be sure to clean and prime the surface, opting for a high-quality primer to ensure the paint lasts for as long as possible; follow beadboard manufacturer instructions for paint type and any limitations on color. TruExterior comes pre-primed and ready to paint any color, including dark hues. A paint sprayer will create a smooth finish and get the most surface covered in the fastest time, but you'll likely need to follow up with a brush to fill in the grooves.
To learn more, check out our idea gallery to see how others have used our panels in their homes.
Want more industry insights? Subscribe to our enewsletter!