Innovative
Poly-Ash
Technology
TruExterior products are made with fly-ash, a by-product recovered from coal combustion. When fly-ash is combined with polymers, it becomes a durable material that's ideally suited for exterior siding and trim. Rigorously tested in various extreme climates, TruExterior products are resistant to moisture and bugs once installed.
Bring On The Rain
Ideal for high humidity and rainy environments
Resists damage from freezing rain, snow and freeze thaw conditions
Ideal for ground contact or contact with masonry
Resists Rot, Bugs and Decay
Poly-ash is an inorganic material that offers no food source to carpenter ants, termites, wood-boring bees and more.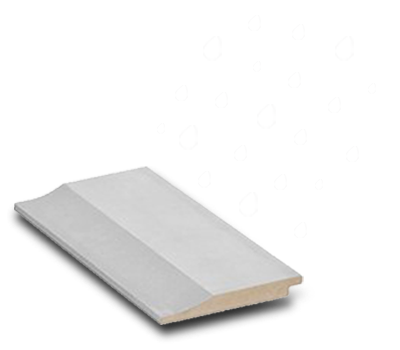 Phenomenal Performance.Remarkable Workability.
TruExterior Siding & Trim offers both and a lasting look while eliminating the need for gluing, gapping and other cumbersome and costly installation techniques.
Application
Designed for use in non-structural applications
Suitable for ground and mansonry contact
Can be used in moisture-prone areas
Installation is the same regardless of the season
TruExterior Siding & Trim products are classified as Class A per ASTM E84
Tools
Installed using proven woodworking tools and methods
Carbide-tipped blades and bits are recommended for a longer tool life
Fastening
Accepts common high-quality, exterior-grade fasteners that are suitable for the local environment
Can be fastened close to the edge
No need for pre-drilling
No mushrooming
Pre-Primed – So You Can Choose Your Perfect Color
TruExterior Siding & Trim come pre-primed so you can create the look you want. You can even choose dark colors with the confidence of knowing your paint job will last. 
TruExterior products come pre-primed and do require paint
No need to prime end cuts
Can be painted with any high-grade exterior paint when following the paint manufacturer's instructions
Dimensionally stable, promoting long-lasting paint adhesions, even with dark colors* ƒ
Paint lasts longer than on wood because TruExterior products cycle virtually no moisture* ƒ
Traditional exterior-grade caulks or exterior-grade wood fillers are all acceptable for filling nail holes
*Please see TruExterior Siding & Trim Limited Warranties and Product Data Sheets for proprietary test results. Always follow local building codes and construction best practices. 
On-Trend, Historically Accurate Siding Styles
If you want a distinctive home, always choose architecturally correct siding and trim profiles. TruExterior accurately replicates popular profiles that define iconic home styles.
Explore the Craftsman Collection Siding and Trim & Beadboard products to find your perfect style.
Manufactured To A Higher Standard
ICC-ES Evaluation Report ESR-3597 verifies that TruExterior meets code requirements
California Wildland Urban Interface (WUI) listed
Produced in a state-of-the-art LEED Silver certified facility
Sustainability Looks Beautiful
TruExterior Products are a sustainable, long-lasting, durable siding solution that offers the look of wood for undeniable curb appeal. Our products are manufactured using renewable energy credits and alternative energy sources. In addition, all wastewater is treated in state-of-the-art water management systems. What's good for the earth is good for our business.
70% Recycled Materials Used
Recycled content verified by SCS Global
Fly ash is endorsed by the US Green Building Council (USGBC) for use in construction materials
One Tough Warranty
TruExterior products will not crack, warp or sustain damage from bugs or water.